BUTTERNUT SQUASH SPAETZLE
(WITH GLUTEN FREE OPTION)
6 eggs
2 cups milk (or almond, coconut, cashew milk)
1 cup butternut squash pureed
up to 4 cups flour (for gluten free option, use Bob's Red Mill gluten free baking mix)
freshly grated nutmeg
salt & pepper
1-2 T. olive oil
2 T. butter
1 T. chopped parsley, for garnish
2 T. bread crumbs (optional)
In a large bowl whisk eggs, milk and squash.  Gradually stir in enough flour to form a thick batter. Season heavily with nutmeg, salt and pepper.  Using a rubber spatula, press batter through a colander into a large pot of boiling salted water.  When spaetzle floats to the top, they are done.  With a slotted spoon or spider, transfer to a bowl filled with ice water to cool.  Drain and toss to lightly coat with olive oil.  Serve immediately with parsley and bread crumbs.   Can also be refrigerated for several hours and warmed in a pan with the bread crumbs (if using) and parsley
As the trend of utilizing the whole food (and wasting nothing) rages on here in the U.S., many have jumped on the bandwagon of sprinkling some avocado pit into cereal, baked goods, etc.  Above is the picture of the pit I ground in my little coffee grinder.  I had to cut the pit into quarters in order for it to fit into that tiny little grinder!  You could also use a high priced blender (such as Vitamix), or your food processor. The taste is bitter, but it packs a big nutritional punch!
Benefits of Avocado Seeds
Over 70% of the total antioxidant capacity of avocados is found within the seed.
Pennsylvania State University recently launched a study on the benefits of avocado seeds and found that the phenolic antioxidant compounds in the seeds may lower high cholesterol, high blood pressure, reduce inflammatory conditions, diabetes, and boost your immunity. The seeds even have insecticidal, fungicidal, and anti-microbial properties.
PROSCIUTTO-WRAPPED ASPARAGUS
12 large asparagus spears, trimmed
6 slices prosciutto
2 oz. roasted almonds
preheat over to 325. Slice prosciutto in half width-wise and wrap around each asparagus spear, covering as much as possible.  Bake until asparagus is cooked and prosciutto is crispy, about 12-15 minutes.  Serve with almonds
CREAMY WHITE BEAN SOUP
2 cans organic white cannellini beans rinsed and drained
1 yellow onion diced
1/8 cup olive oil
1 clove garlic minced
1 1/2 t. rosemary
3 cups organic low sodium chicken stock (if vegan use vegetable stock)
1 t. kosher salt
1/8 – 1/2  t. pepper (depending on taste preference)
1 t. thyme
bacon for topping (optional)
In a large stock pot, heat olive oil over medium heat.  Add onion and saute until soft and brown (about 10-15 minutes).  Add garlic and cook 1 more minute.  Add the beans, broth, rosemary, thyme, salt and pepper.  Bring to a boil and simmer for about 10 minutes.  Use an immersion blender, food processor, or regular blender to puree' the soup until smooth.  Top with bacon or use your imagination for other possible, yummy add-ins for this soup.  Enjoy!
HUMMUS 3 WAYS – from Food Network
Black bean hummus – Puree a 15 ounce can drained black beans with 1 clove garlic, 2 T. each lemon juice and tahini,and 1 t. cumin.  Add water or a little olive oil if needed .  Season with salt.  Serve with crackers and vegetables, spread on toast or use as sandwich spread or side dip with nachos.
Edamame hummus – Make above recipe but substitute 1 cup edamame (cooked and shelled) for the black beans.  Add 1 t. sesame oil and top with sesame seeds.
White bean hummus – Make above hummus recipe but substitute black beans with white cannellini beans. Add 1/2 cup chopped scallions.  Serve with pita or bread sticks.
SALSAMOLE
Mix 1/2 cup jarred salsa (mild, medium or hot) with 2 smashed avacados, 2 T. each lime juice and chopped cilantro.  Add salt to taste and serve with tortilla chips.
BARLEY SALAD
Ingredients
1 cup cooked barley
1 red bell pepper, chopped
1 carrot, peeled and shredded
1 cucumber, chopped
1 cup frozen edamame, thawed
6 green onions, chopped
1-2 cups shredded red cabbage
bottled Sesame – ginger dressing
1/4 c. peanuts
Instructions
Mix all ingredients together.  Top and toss with dressing and peanuts just before serving.
OAT BRAN
So many people eat and enjoy oatmeal in it's various forms, but have you tried oat bran?  It is very fine in texture like cream of wheat and has more fiber than regular oats. 1/3 cup dry oat bran has 76 calories and 4.8 grams of fiber.  1/3 regular oatmeal contains 96 calories and 2.5 grams of fiber.  It's easy to double, triple the recipe.  Liquid content is always 3x the amount of oat bran!  The picture above is my breakfast yesterday with raw walnuts, dried cherries, maple syrup and cinnamon!  Here is the recipe for one generous serving.
1/3 c. oat bran
1 c. almond, coconut, rice, soy, cashew or dairy milk
1 T. sweetener of choice (agave, maple syrup, brown sugar, coconut sugar)
1 t. vanilla
dash of cinnamon
mix- in's of choice (dried fruit, nuts, fresh fruit, etc)
Combine oat bran, milk of choice, sweetener, vanilla and cinnamon in small pot over medium heat.  Cook until liquid is absorbed and oat bran has the consistency of cream of wheat.  remove from heat and add mix in choices.  Enjoy
(can also be cooked in microwave on high 2/1/2 minutes in large bowl to prevent boiling over)
By Brittany Correa
White Bean & Roasted Red Pepper Meatballs1 white onion chopped
3 cloves garlic chopped
1 tsp avocado oil
1/4 cup roasted red pepper diced
1 15 ounce can white beans drained & rinsed
Juice from half a lemon
Spices to taste (because I didn't measure) 😊
Salt, pepper, oregano, parsley, basil and a pinch of red pepper flakes
1 1/4 cups of bread crumbs
Sauté onion in avocado oil until tender. Add garlic sauté 1 more minute. Add white beans, peppers and spices sauté for 2 minutes more.
Add lemon juice and transfer to food processor. Pulse to combine. Add 1 cup of bread crumbs and pulse until everything is combined well. Let the mixture cool for a few minutes. Add 1/4 bread crumbs with salt and pepper in a bowl. Roll meatballs to size and then lightly in bread crumbs. You can bake them @350 for 30 minutes. Or brown them in avocado oil and then bake! Serve with your favorite pasta and sauce! Enjoy
GRILLED SHRIMP AND BARLEY SALAD
2 c. water
1 c. pearl barley
metal skewers or fish basket for the grill
2 limes
1 T. olive oil
1/4 t. cayenne pepper
1/4 t. cumin
salt
1 lb. shelled, deveined shrimp
1/2 c. chopped tomato
1 ripe mango, pitted and cut into bite size pieces
1/2 c. basil
In 1 quart saucepan, heat water and barley to boiling on high.  Reduce heat to love; cover & simmer for 35 minutes or until barley is just tender and liquid is absorbed.
Heat outdoor grill to medium.  Make dressing from juice of limes ( approx. 1/4 cup), 1 t. grated lime peel, olive oil, pepper, cumin and salt.  Toss all but 1T. of dressing with barley.  cool for 10 minutes.  In medium bowl toss shrimp with remaining dressing .  Thread onto metal skewers or lay shrimp flat onto fish basket.  place shrimp on hot grill and cook covered 4-5 minutes, turning once until cooked through.
Add shrimp, mango, tomato and basil to barley and serve.
BLENDER CAPPUCCINO
In blender, process 1/2 c. double strength coffee (chilled), 1/4 c. nonfat milk (or coconut, almond, cashew milk, soy, rice milk etc), 4 ice cubes, 1/2 T. agave, 1/8 t. vanilla extract, and a pinch of cinnamon until smooth and frothy.  Serve immediately.  Makes one serving.
Japanese Hot Pot
Ingredients:
4 cups water
¾ mirin (rice cooking wine)
2 tablespoons sugar (I used coconut palm sugar )
2 cups chopped bok choy
2 cups chopped napa cabbage
2 cups stemmed and sliced shitake mushrooms
1 cup Chinese broccoli
1 cup sliced carrots
1 cup green onions, cut into 4 inch pieces
1- 14 ounce package extra firm tofu or chicken or beef sliced thinly
a little veggie broth or neutral tasting oil to sautée veggies
note: You can change it up and add any vegetables you prefer or have on hand to clean out the fridge!
Instructions:
Rinse and soak noodles in hot water to soften, if necessary depending on the kind of noodles you chose. Shiratake simply need to be rinsed, but some udon may need to be soaked in hot water to soften before adding. Drain when done.
Wash and chop all veggies and tofu or meat.
In a large soup pot, sauté the green onions and mushrooms with a little veggie broth (or neutral tasting oil) until slightly browned. Remove and set aside to add later.
Add water, Tamari (or other), mirin, and sugar to the pot and simmer until the sugar is dissolved. Add broccoli and carrots to the pot. Simmer for a few minutes. Then add bok choy and cabbage. Simmer a few more minutes. Then turn heat to low and add mushrooms, green onions, tofu and noodles. Allow to warm for a few more minutes until everything is just cooked. Turn off heat and serve.
You can arrange the veggies and tofu into group around the outside of the pot, then add the noodles in the center for presentation, but it isn't necessary.
SAGE CITRUS FISH PACKET  by Wildtree
Ingredients
4 (4 ounce) sea bass fillets

1 teaspoon Wildtree Sage Citrus Dry Rub

1 shallot, sliced

1 orange bell pepper, sliced

2 teaspoons Wildtree Natural Grapeseed Oil

½ teaspoon Wildtree Rancher Steak Rub
Method of Preparation
Preheat oven to 400°F. Place each piece of fish on a piece of parchment paper and season with Sage Citrus Dry Rub. Toss shallot and orange bell pepper with Natural Grapeseed Oil and Rancher Steak Rub. Divide vegetables among the pieces of parchment. Fold parchment paper to seal fish and vegetables inside. Place parchment packets on a sheet pan and bake for 10-15 minutes or until fish is cooked through: 140°F. (Cooking time will vary depending on the thickness of the fish.)
By Brittany Correa
Spicy Asian Quinoa Salad!!!
*Recipe* 😊
4 cups raw shredded red cabbage
2 cups shredded carrots
2/3 cups sliced green onions
2 cups cooked quinoa
1/2 cup pine nuts (or sliced almonds)
Dressing
1/3 cup avocado oil
3 tbsp rice wine vinegar
1 tbsp maple syrup (or agave but I prefer maple syrup)
1 tbsp sriracha sauce (or to taste)
1 tsp soy sauce
A dash of sesame oil to taste
Salt and pepper
Toss all veggies and quinoa together. Make dressing and stir. Combined everything and enjoy!!!
Strawberry/Pizzelle sandwich
My daughter made herself a wonderful, low cal treat a few days ago.  It was simple and delicious.
2 Pizzelle wafers (we had vanilla flavor)
1/2 cup strawberries, washed and cut into bite size pieces
organic whipped cream
chocolate or carob chips
Lay one pizzelle on a plate and layer with the strawberries.  Add a few dollops of whipped cream and sprinkle on a few cocoa or carob chips.  Add remaining pizzelle wafer on top and enjoy!
Grilled Pizza
Prepared pizza dough from your grocery store (many varieties are available with just 3-4 legible ingredients)
Fresh mozzarella
pizza sauce
toppings of your choice
fresh basil
olive oil
pre-cooked toppings such as mushrooms, peppers, sausage, etc.
If you have never tried throwing pizza dough on the grill, you are missing out!  Heat grill to medium setting.   Bring pizza dough to room temperature, allowing the gluten to relax in the dough for easier handling.  On an oiled  cookie sheet, gently stretch dough into desire shape (round, square, rectangle).  Gently transfer oiled side of dough to grill and cook just until the edges begin to brown, about 3 minutes.  While the first side is cooking brush additional olive oil on the uncooked side of the dough.  Gently flip dough and quickly begin to apply the sauce, cheese and any precooked toppings. When the dough is cooked to your desired  level of crispness, remove from grill back onto cookie sheet.  Top with fresh basil, Cut and enjoy.
FLOURLESS PEANUT BUTTER MUG CAKE
3 Tablespoons organic peanut butter
1 Tablespoon agave
1 Egg
Whisk all ingredients into an oversized, microwave-safe mug until batter is smooth and egg is fully whisked in. Microwave for about 1 minute. Let cake cool a few minutes before eating.
American Flag Layer Dip
1 can refried beans
1 package round corn tortilla chips
2 cups cooked taco-seasoned ground turkey or beef
1/2 cup mayonnaise
1/2 cup sour cream
1/2 cup salsa
1/2 teaspoon ground cumin
4 Anaheim chilies, roasted, peeled, seeded and chopped
4 green onions, finely chopped
3 avocado, peeled and diced
2 cups grated sharp cheddar cheese
1/2 cup shredded iceberg lettuce
1/4 cup whole black beans
2 cups grated Monterey Jack cheese
1 container grape tomatoes, each tomato cut in half lengthwise
Evenly cover the bottom a 9 x 13-inch baking dish with the refried beans.
Use the round tortilla chips to make a double border of chips around the entire inside rim of the baking dish.
Top the refried beans with cooked meat.
In a medium bowl, whisk together the mayonnaise, sour cream, salsa, and cumin. Spread this mixture on top of the meat layer.
Sprinkle the chilies, green onions, and avocado over the salsa mixture layer. Then top with the shredded cheddar cheese.
Top the upper left-hand corner of the baking dish (for the star area of the flag) with shredded lettuce, sprinkle the black beans on top of the lettuce to resemble the stars.
To simulate the stripes, start at the top of the dish and make a stripe of shredded Jack cheese. Next, make a stripe of cherry tomatoes, cut side down. Then, another stripe of cheese, then tomatoes, etc. for a total of 5 cheese stripes and 4 tomato stripes or enough to reach the bottom edge of the baking dish. Serve with additional tortilla chips.
Recipe courtesy of Les Petites Gourmettes
INDEPENDENCE DAY FRUIT KABOBS
1 dozen wooden skewers
1 quart strawberries washed and sliced
1 pin blueberries washed
2-3 bananas cut into 1 inch thick slices and sprinkled with fruit fresh or lemon juice to preserve color
optional alternative to bananas would be marshmallows
Layer onto skewers according to above picture and arrange on plate to resemble American flag.
enjoy!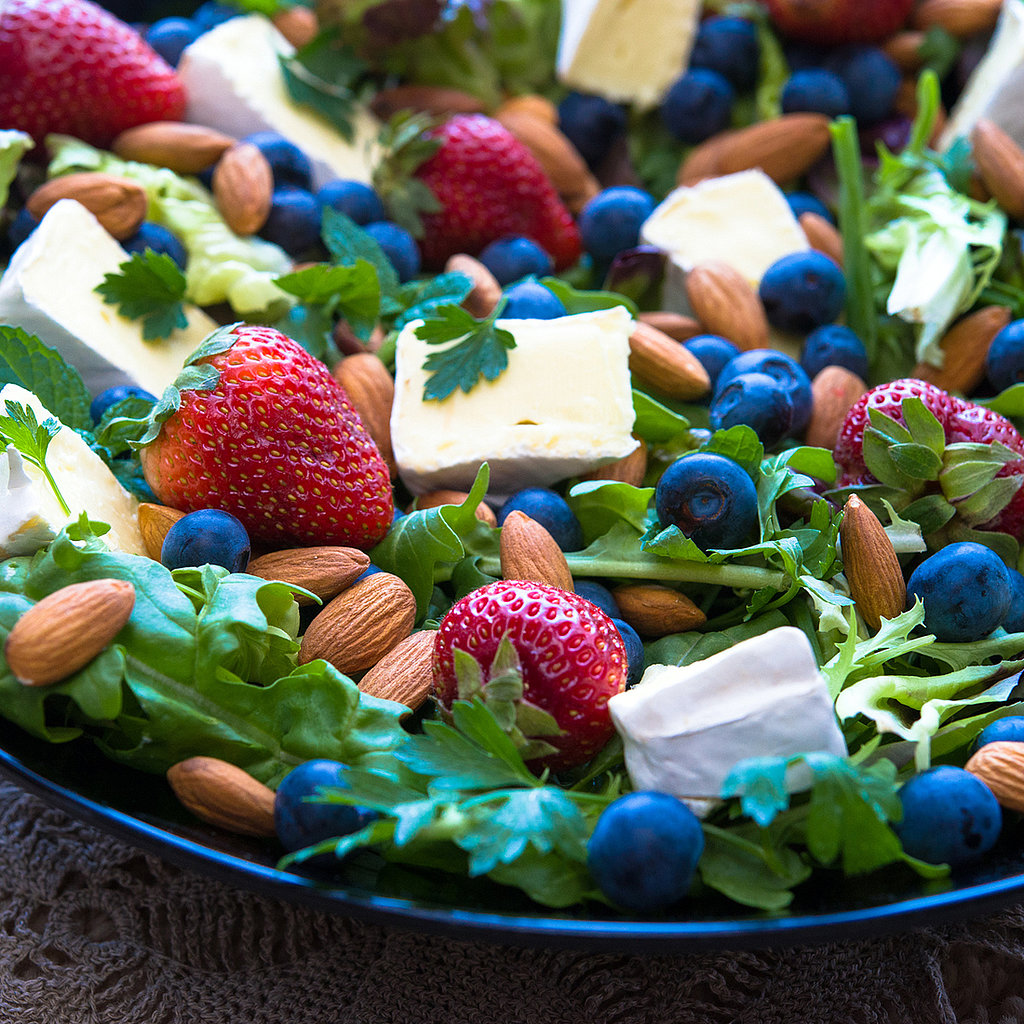 RED, WHITE & BLUE SALAD
3 c. field greens (or any bag salad of your choice)
1 c.  strawberries, washed and sliced
1 c. blueberries washed
8 oz. crumbled feta or goat chees
1/2 c. chopped or whole almonds
Toss all ingredients together with a salad dressing that compliments fruit and cheese, such as raspberry vinaigrette or honey poppy seed.
This is not a recipe, but with July 4th right around the corner I thought this was a neat way to arrange a meat, cheese and cracker platter.  Simple and fun!
Clean Chocolate
2 c. coconut oil (room temperature)
3 1/2 T. honey
3/4 t. vanilla
1/2 t. salt
1/2 t. cinnamon
1 c. cocoa powder
Mix wet ingredients together then blend in remaining dry ingredients.  Blend until light and fluffy.  Pour into your favorite mold or ice cube tray.  Cool in freezer until firm.  Vary recipe to your taste.  For example, you could add the extract of your choice like orange or cherry.  Add savory elements such as cayenne pepper or smoked paprika.
Low-sugar Blueberry Jam
2 cups blueberries
3/4 c. cold water
1/2 t. lemon juice
2 t. unflavored gelatin
3 T. white sugar, or coconut sugar or substitute of your choic
In a heavy saucepan over medium-high heat, combine blueberries, 1/2 c. of the water and lemon juice.  Bring to a boil, then reduce heat and simmer gently for about 7-8 minutes, stirring often.  Meanwhile soak the gelatin in the leftover 1/4 cold water.  Remover blueberries from heat and stir in gelatin and sugar.  Pour into hot, sterilized jars and seal.  Cool and store in the refrigerator.
CORN CHOWDER
4 oz. sliced bacon
2 T. olive oil
1 onion, chopped
kosher salt and pepper
1/4 t. thyme
2 cloves garlic finely chopped
1/2 lb yukon gold potatoes, cut into 1/2 in. pieces
1 16 oz. package organic, frozen corn or 6 fresh ears cooked and cut off cob
4 cups low sodium chicken broth
1 cup half and half or coconut, almond milk equivalent
fresh scallions, chopped
fresh parsley
Cook bacon in large skillet over medium-high heart until crisp.  Transfer to paper towel and break into pieces when cooled.
Add oil to pan and heat back up to medium-high heat.  Add onions, salt, pepper and thyme and cook until onions are translucent.
Add garlice and cook another minute.  Add potatoes, corn, chicken broth and half & half (or milk alternative) and bring to a boil.
Reduce heat and simmer until potatoes are tender (about 10 – 12 minutes).
Transfer half of the soup to blender or use emersion blender directly in pot to puree half of soup until smooth.  This is what gives it an extra creamy texture.  Spoon into bowls and top with bacon, scallions and parsley.
I am really enjoying avocados lately.  Mash ups have been quite trendy over the past year in baby and adult foods.
One of my favorite things to do with healthy avocados is to just take toast, bagels, crackers, tortillas, etc. and top with fresh avocado, then top with pink sea salt!  Not every recipe has to be complicated, just delicious.  Enjoy
Since it is blueberry season, I am posting another blueberry recipe today:
Gluten-free blueberry crepes w/ organic vanilla whipped cream
For crepes:
1/2 cup gluten free flour mix (such as Bob's red mill)
1 cup water
1 egg
2 T. melted butter (or earth balance)
Mix first three ingredients together.  Place a medium size pan over medium heat and brush bottom with melted butter.  Add a few tablespoons of batter to pan and swirl around until a very thin layer coats the bottom of the pan.  Cook about one minute and flip over to cook for one minute.  Remover crepe to plate and continue crepe making until all batter is utilized.
Blueberry filling:
1 1/2 c. blueberries (fresh or frozen)
1/4 c. agave
1/2 t. vanilla extract
1 T. water
1 T. cornstarch
In a small saucepan combine all ingredients and cook over medium heat until the cornstarch has thickened and the berries are just cooked through (approx 5 minutes).
Whipped cream:
3/4 c. organic heavy whipping cream
3/4 t. vanilla extract
1 T. agave
whip all ingredients together until soft peaks form.  This can be done by hand or with a mixer.
To assemble, lay out each crepe and spoon about 1 1/2 T. blueberry filling inside.  Spread evenly on one end of the crepe and roll up (like a tortilla but without folding in the ends).  Top with the vanilla whipped cream.  Enjoy
| | | | |
| --- | --- | --- | --- |
| | |   Wildtree has great products to assist you in making organic, non-gmo, healthier versions of recipes you may have seen before.  Love this one for pops!  If you are dairy free, just substitute coconut or almond yogurt and milk for the dairy in this recipe. | |
Blueberry Basil Ice Pops

Servings
8
Prep Time
3-4 hours (includes freezing time)
Cook Time

Ingredients

1 1/2 cups nonfat plain Greek yogurt

1/2 cup Wildtree Wildly Blueberry Jam

1/2 cup low fat milk

2 teaspoons chopped basil

Nutritional Info

| | | |
| --- | --- | --- |
| Calories: | | 80 |
| Fat: | | 0g |
| Saturated Fat: | | 0g |
| Carbohydrates: | | 14g |

| | | |
| --- | --- | --- |
| Fiber: | | 0g |
| Protein: | | 4g |
| Cholesterol: | | 0mg |
| Sodium: | | 25mg |

Mix together all ingredients and divide among ice pop molds. Freeze until solid.

Submitted By:
Wildtree from Lincoln, RI
Meal Type:
Sugar & Spice,  Kid Friendly,  Snacks

Wildtree Product(s):
Wildly Blueberry Jam
Chicken Waldorf Salad
8-10 oz. cooked chicken breast
1 large apple, cored and diced
1/3 cup raisins or craisins
1/2 cup walnuts
1/3 cup light mayo
1 T. lemon juice
3 heads endive, leaves washed and separated or
1 head romaine or iceburg lettuce.
salt & pepper to taste
Cut chicken into bite-size pieces and place in a large bowl.
Add apples, raisins and nuts.  In a smaller bowl, whish together mayo
and lemon juice, salt & pepper; add to chicken mixture and toss to coat
evenly.
Line 4 plates with endive, romaine or iceburg leaves and spoon equal amounts of
salad onto each.
Eggplant Stackers
1 large or 2 small eggplants, cut into 12 rounds about 1/2 inch each
8 oz. fresh mozzarella sliced into 8 1/4 inch rounds
1 jar prepared basil pesto (or make your own)
2 fresh tomatoes sliced into 6 rounds each
1/4 c. olive oil
salt & pepper to taste
fresh basil for garnishing (optional)
For eggplant with less bitterness, soak rounds in cold salted water for 30 minutes.  Drain.
Heat a grill to medium-high heat.   Meanwhile combine olive oil, salt and pepper together.
Brush onto each side of eggplant rounds and grill about 3-5 minutes per side until brown.
Place one eggplant round on each plate. Immediately top with slice of mozzarella and then top with tomato.
Slather on a layer of pesto and repeat all 4 layers again.  Top with one more eggplant round and garnish with fresh basil.
Refrigerator oatmeal❤️💙!
Strawberries & cream + Blueberries & Cream!!!
These are great for portion control, convenience and a deliciously healthy breakfast with so many possibilities!
Add a spoonful of almond butter, peanut butter, granola, more fruit, coconut or nuts on top for an added kick start to your day!
Ingredients: makes 3 cups
2 cups of quick oats
2 cups of unsweetened almond milk
6 organic strawberries or 1 cup of blueberries (depending on which flavor your making)
1tsp of coconut sugar or agave nectar.
In high powered bullet, purée the fruit. Add puréed fruit and all the ingredients in a medium sized bowl, (I use a bowl that is made for pouring to make it easier to pour into my jars) mix all ingredients with a fork. You can add a TBS of chia seeds in the mix for added fiber if you want to. Pour into a container or in small mason jars for individual portions. Let set in fridge over night or at least for 6 hours. To make 3 more cups like I did in the picture, follow steps but switch up the fruit, if you did strawberry before, do blueberry this time. This is super easy! Takes about 5 minutes to make😘🌱💪🏻💚💙❤️Enjoy!
-Rachel Soucier
Grilled Shrimp Salad
2 c. water
1 c. pearl barley
6-10 metal skewers (or fish grill basket)
2 limes
1 T. olive oil
1/4 t. cayenne (optional)
1/2 t. ground cumin
salt to taste
1 lb. large peeled, deveined shrimp
1 mango, pitted and cut into chunks
1/2 c. fresh basil
1 bag or head of salad greens
In a 1 quart saucepan, bring water and barley to a boil on high heart.  Reduce heat to low; cover and simmer 35 minutes or until barley is just cooked and liquid is absorbed.
Prepare outdoor grill.  To prepare the dressing juice the lime (need 1/4 c. juice) and grate 1 t. lime peel.  Combine with oil, cayenne, cumin and dash of salt to taste.  Transfer cooled
barley to large bowl and toss with all dressing but 1 tablespoon.  Toss shrimp with remaining tablespoon of dressing and place shrimp on metal skewers on in grill basket.  Cover grill and
cook shrimp over medium heat 4 to 5 minutes, turning once until cooked through.  Add shrimp, mango and salad to the barley and garnish with basil.
Korean Bulgogi
2 lb. skirt steak
1/3 c. Low sodium soy sauce
1/4 c. Dark brown sugar or coconut sugar
2 T. Fresh lime juice
2 T. Finely chopped garlic
1/2 cup chopped scallions
2 T. Toasted sesame seeds
1/4 sesame oil
2 t. Sea salt
Place steak in a straight sided dish large enough to hold the pieces flat. Mix remaining ingredients together, stirring until sugar dissolves. Pour marinade into dish turning steak until all sides are coated. Cover dish and marinate in refrigerator at least one hour or up to 24 hours. Bring steak to room temperature before  grilling. Heat grill to high heat if using charcoal grill,the coals are ready when you can hold your hand 4 inches above the grill for 2 to 3 seconds. Lift steak from marinade & let excess drip off. Discard marinade. Grill steak, turning once, 3 to 4 minutes per side for medium rare. Transfer to a cutting board and let rest for 10 minutes. Thinly slice against the grain. Serve with rice and a leafy salad.
Mediterranean Cold Rice Salad
3 cups cooked, chilled rice
1 jar marinated artichokes – marinade reserved (I found yummy grilled ones from Trader Joe's)
1 T. fresh lemon juice
3/4 c. assorted olives (black, green, kalamata, etc)
1 1/2 assorted raw veggies, chopped (I used raw, organic zucchini & red pepper)
1 t. oregano
1/2 t. salt
1/4 t. pepper
1/8 t. red pepper flakes (optional)
Fresh parsley
Fluff and separate (if sticking together) cooked, chilled rice grains and add reserved marinade from artichokes and the lemon juice.  Toss to coat.
Dice olives and assorted raw veggies to desired size and incorporate into rice.  Add spices and top off with fresh parsley.  Great for picnics.
Buckwheat Pizza Crust
For those of you who may not know, buckwheat is not wheat.  It is gluten free!
2 1/4 cups buckwheat flour
1/2 cup tapioca flour
1/2 t. sea salt
1/2 t. baking powder
1/4 t. garlic powder
1 cup warm water
1/4 cup extra virgin olive oil
1 T. honey or agave
1 T. apple cider vinegar
Preheat over to 375 degree F.
In a medium bowl, combine dry ingredients (buckwheat flour through garlic powder).  Whisk together
In a separate bowl combine the liquid ingredients.  Pour the wet into the dry and whisk together well, until you see long dough strings formed.  The dough should be thinner, more like a cake batter.  If it is too think, add a little water to achieve desired consistency.
Oil a pizza stone with olive or grape seed oil.  Scoop out the dough (with oiled hands) work the dough into a thin sheet covering the stone.  The larger the stone the crispier the crust.
Bake for 15 to 20 minutes.  The crust is cooked when it is just slightly golden on top.  Top with pizza sauce and your favorite toppings.  Return pizza to oven until cheese and/or toppings are cooked through (approx. 10 min.).
Veggie Wraps
This is such a versatile sandwich and it's a great way to use up little bits of leftover vegetables in the refrigerator before they go bad!
What you'll need:
1 wrap of your choice  (white flour, whole wheat, gluten free brown rice , spinach, etc)
Hummus (flavor of your choice)
1/4 cup of raw veggies cut into strips (pepper, zucchini, cabbage, carrot, cucumber)
1 T. pitted Kalamata olives (or any olives you have available)
2 thin tomato slices  or avocado
1/4 c. shredded mild cheddar cheese (or almond, soy or rice cheese alternative)
1/4 c. shredded lettuce
Spread hummus on the lower third of the wrap.  Layer veggies in the center of the wrap.
Roll the wrap from the bottom toward the center.  Fold the sides in, then roll the entire sandwich into a neat pocket.
HOMEMADE PANCAKE/WAFFLE SYRUP
If you ever find yourself running out of syrup, this homemade version can be whipped up in minutes.  Also, if you are still using the processed syrup in the bottle (as opposed to maple syrup or agave) this is a great alternative!
Gently boil 1 cup organic brown sugar, 1/2 c. water, 1 T. butter and 1/2 t. vanilla extract, stirring often, until slightly thickened.
That's it!  Very simple!
Gluten Free Waffles
Whisk 1/2 c. chick pea flour, 1 c. gluten free baking mix, 1/2 c. almond flour, 4 t. baking powder, 2 T. coconut sugar (or sweetener of choice), and 3/4 t. salt.
Mix in 2 eggs, 1 1/2 c. coconut or almond milk, 3 T. melted coconut oil. Keep them plain or mix in any additions like blueberries, chocolate chips, etc.  Cook in waffle iron until crisp.
Chicken Caesar Salad                                                                                                                                                                                                                                                                                                                       (350 Calories)  regular version has 980
1/2 c. ripe avocado
6 T. water
1 clove garlic (or 1 t. minced, jar garlic)
1 1/2 T. fresh lemon juice
2 t. worcestershire sauce
1/2 t. dijon mustard
1/4 c. grated parmesan
1/2 t. salt
1/4 pepper
1 t. anchovy paste (optional)
2 cups romaine lettuce
4 oz. sliced, cooked chicken
1 oz. croutons or additional parmesan
In a food processor, puree all ingredients except lettuce, chicken and croutons or additional parmesan cheese.
Top lettuce, chicken & crouton with desired amount of dressing.  Store any leftover dressing for another use.
If you love egg salad, your going to LOVE chick pea salad!!!
1 can chick peas, rinsed, drained and devided in half.
1 celery stalk finely chopped
1 TBS Dijon mustard
1 tsp apple cider vinegar
1/4 cup unsweetened almond milk
1 tsp sea salt
1 tsp black pepper
1/2 cup chopped walnuts
1/3 cup dried cranberries -in a high powered bullet, purée half the chick peas with the apple cider vinegar, almond milk, salt, pepper & mustard until smooth and creamy. Pour mixture into a bowl. Add all the rest of the ingredients in until completely mixed. It's great on top of a salad, in a sandwich with some lettuce or just plain with a fork
Honey lime chicken
1 lb. Chicken breast (or boneless thighs)
1/4 t. salt
1/8 t. pepper
6 T. Honey
1 lime (zest & 1 T. lime juice)
1 T. melted butter
Thyme (to taste)
Preheat oven to 400 degrees.  Remove visible fat and pound chicken breasts to desired thickness.  Season with the  salt and pepper and place in oven safe pan.  Mix remaining ingredients in small bowl.  Pour mixture over chicken.  Bake @ 400 for 20 minutes.
Oatmeal Pancakes!
So healthy, easy to make, energizing and needless to say DELICIOUS!!! Recipe below✌️.
Check me out in Instagram✅
2 cups of oats ground into a flour in a high powered bullet
2 1/4 cups unsweetened almond milk
1 tsp pure vanilla extract
1 tsp baking powder
1 chia egg (1 TBS chia seeds mixed in 4 TBS hot water, let sit for 5 minutes)
1/2 tsp salt
1 TBS coconut sugar or agave nectar
Mix all ingredients in a medium sized bowl using a fork. Add the chia "egg" after the 5 minutes. Prepare your pan on or griddle on medium using a tiny bit of coconut oil. Using a 1/2 cup measuring cup, scoop out batter and pour on hot pan. Using your spatula, help spread batter out to shape it and thin it out a bit. Cook in each side for 4 minutes give or take a minute depending on stove. Serve with desired toppings. Vegan butter & pure maple syrup are really all you need but you can dress these healthy pancakes up however you like! Enjoy!
CHOCOLATE BREAD
Make 1 loaf
1 C. packed light brown sugar or coconut sugar
1 large egg or chia seed substitute
1 14oz can red beets, drained or 1 pound red beets cooked and pureed.
1/8 c. coconut oil (or oil of your choice)
6 oz plain yogurt (I used coconut yogurt)
1 t. vanilla extract
3/4 C. gluten free mix of choice (I love Bob's Red Mill)
1/2 C. millet flour
1/4 C. almond flour
1/2 C. cocoa or carob powder
1 1/2 t. baking powder
1 t. cinnamon
1/2 t. baking soda
1/2 t. salt
1.  Preheat oven to 350F.  Spray 8 1/2″ by 4 1/2″ loaf pan with nonstick cooking spray with flour.  (gluten free – use coconut oil & gluten free flour)
2.  In large bowl, with wire whisk, combine brown sugar (or coconut sugar) and egg.  Add pureed red beets, oil, yogurt and vanilla extract.  Stir to combine.
3.  In medium bowl, combine gluten free flour, millet flour, almond flour, cocoa or carob powder, baking powder, cinnamon, baking soda, and salt.  Add flour mixture to red beet mixture; stir until just combined.  Do not overmix.
4.  Pour batter into prepared pan.  Bake 40-45 minutes or until toothpick inserted in cent of loaf comes out clean.  Cool in pan 10 minutes.  Invert chocolate bread onto wire rack, cool completely.
This bread has the consistency of zucchini bread or any quick bread recipe.
Cold Mexican salad served in avocado shells!
-2 red peppers~chopped
-2 green peppers~chopped
-2 orange or yellow peppers~chopped
-2 avocados~cut into squares
-1 can low sodium corn~rinsed and drained
-2 cups of cooked quinoa~ cooled completely in fridge(I used 1 cup red and 1 cup tri colored)
-1 13 oz can Goya low sodium black beans~rinsed and drained
-1 fresh jalapeño~Finley minced
Dressing:
-1/2 cup olive oil
-1/2 cup red wine vinegar
-1 tsp smoked paprika
-1 tsp ancho chile pepper
-1 tsp sea salt
-1 tsp onion powder
Mix all ingredients in a bowl except avocados, make dressing in a seperate bowl, whisk until completely blended. Add dressing to salad and mix well. Finally, add the avocados, folding in gently to preserve chunks. Serve in the avocado shells for a lovely presentation! Or eat out of the bowl. This is a great topper for salads, pastas, pizzas and more! Let your imagination go wild with this fun salad recipe! Top with black olives for an added flair! (I topped with hemp hearts) Enjoy!
-Rachel Soucier
Amazingly Delicious Black bean burgers!
Ingredients:
2 carrots-peeled
2 large cans of black beans rinsed and drained or 2 bags of dried beans soaked and cook according to package instructions.
1/2 cup of quick oats-pulsed into a flour in a high powered bullet
1 Tbs minced garlic
1 Tbs coconut oil or extra virgin olive oil
1 Tbs onion powder
1/2 tsp coriander
1/2 tsp cumin
1/2 tsp chili powder
1/2 tsp cayenne pepper
1/2 tsp smoked paprika
Instructions:
In a large pan, add oil and minced garlic. Cook garlic for 1 minute on medium heat. Add carrots to blender and pulse until they are into small crumbles. Add carrots into pan and cook for 3 minutes stirring continuously to ensure carrots are all softened a bit. Removed from heat.
In a large bowl, add black beans. Mash beans with a potato masher until beans are smooth. Add carrots and all remaining ingredients in bowl. Form patties to the size you want. Place patties on a large cookie sheet. Freeze for 30 minutes. Remove from freezer. In a large pan, add a tsp of oil. On medium heat, Cook your patties on each side until browned, about 3-5 min.
Serving suggestion! Serve with toasted bun, lettuce, tomato, avocado, almond cheese, vegan mayo, natural ketchup & mustard. If you like pickles, these would taste amazing with pickles also. The possibilities are endless!
Devour!
-Rachel Soucier
Save
Save
Save
Save
Save
Save
Save
Save
Save
Save
Save
Save
Save
Save
Save
Save
Save
Save
Save
Save
Save
Save
Save
Save
Save
Save
Save
Save
Save
Save
Save
Save
Save
Save
Save
Save